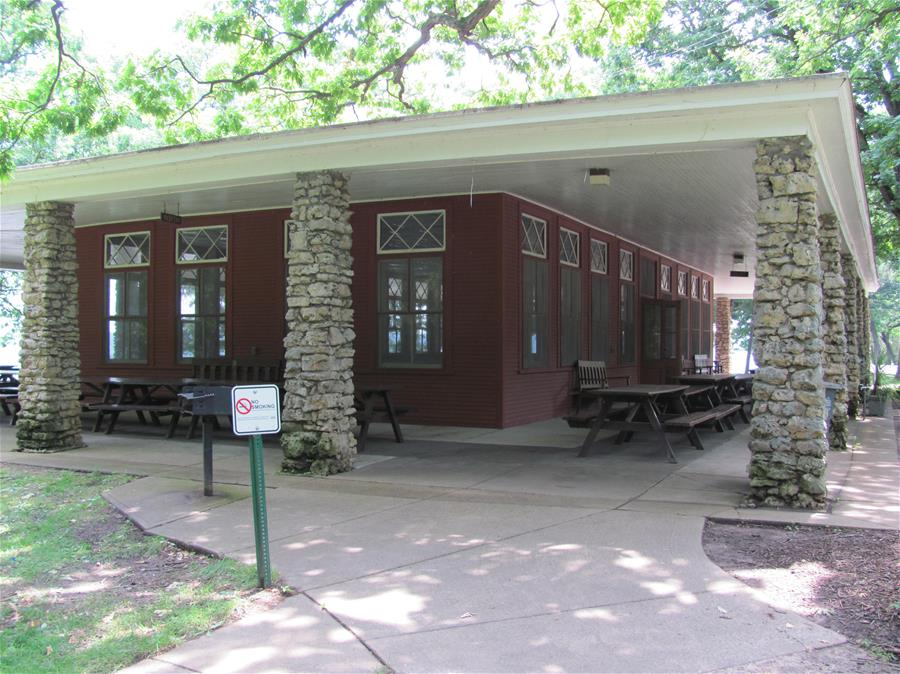 Please join us for the Friday evening dinner on August 2, 2019. This is a great time to meet and visit with everyone and to enjoy good food, fun, and friendship. The Riverfront Pavilion is handicapped accessible – it is at street level and fully paved with no steps to contend with! 
We are happy to return to our roots with an outdoor picnic dinner for the Friday evening meal at the Midwest Trade Show! The dinner will be held in the breathtakingly beautiful Eagle Point Park which is located atop the tall bluffs surrounding the Mississippi River. Menu items will include: hand rubbed chicken, steak, potatoes, corn on the cob, salad, rolls/butter, soft drinks, and water. Our chef says, "No one will go home hungry!" The cost for the meal is $20 per person payable in advance. RSVP is requested by July 13, 2019. (There is an additional $1 per car fee to enter Eagle Point Park – payable at the park entrance.)
The picnic dinner will be held at the Riverfront Pavilion (pictured above)which has indoor seating within a screened building or outdoor seating under a roof – covered patio and has a gorgeous view of the Mississippi River.
Here's a little information on Eagle Point Park and the Riverfront Pavilion area. "Eagle Point Park is one of the most outstanding parks in the midwest. One hundred and sixty-four acres overlook the Mississippi River and Lock and Dam #11, providing a spectacular tri-state view of Iowa, Illinois and Wisconsin."
"The Riverfront Pavilion, built in 1910, is the oldest pavilion in the park. Riverview walk was constructed in 1950 and quickly became the most popular area in the park. Viewing towers are available to the public, showcasing the panoramic view of Iowa, Wisconsin, and Illinois, and Mississippi River Lock and Dam #11."
We hope you will be able to allow time to take a look around the park before or after dinner. With 164 acres that are easily accessed with paved roadways, there is a lot to see! For more information on the park please go to http://www.cityofdubuque.org/573/Eagle-Point-Park.