Pre-registration is recommended to reserve your seat in the class you want. Please mail or call your pre-registrations in before July 13, 2019. After that, you will be able to sign up for classes at the show if the class still has openings. More information will be added as it becomes available.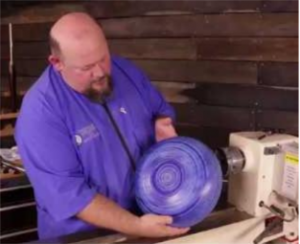 We are excited to expand our classes for woodturners at the Midwest Scroll Saw & Woodworking Trade Show. This year we will feature Jeff Hornung, a renowned woodturning artist from the St. Louis, Missouri area. Jeff is a lifelong artist and has been involved in various artistic endeavors including being a musician, a ceramist, and a floral designer. His current focus is woodturning. His original woodturnings are featured in art galleries in and around St. Louis. He teaches and demonstrates at woodturning clubs, symposiums, trade shows, and other art events. He has been featured in American Woodturner (June 2018), Woodturning Magazine (November 2018), and St Louis At Home Magazine (June 2017) as well as in the book, Masters of Contemporary Wood Art which was published in 2018. We are very happy to have Jeff join us as part of the Midwest Trade Show as a vendor as well offer his classes. If you would like to learn more about Jeff please visit him at http://www.thewalnutlog.com/about/  If you have questions about the Woodturning classes please contact Lyndal Anthony at 563-599-8042 or check out his website at http://www.midwestwoodart.com/.
Friday, August 2, 2019 – 9:30 am to 4:30 pmWoodturning Demo Seminar presented by Jeff Hornung.
Jeff will provide detailed demonstrations of various woodturning projects and techniques. A lunch break will be included.
Cost will be $30.00 per person
Class size limit 30 students
Saturday, August 3, 2019 – 9:30 am to 3:00 pmHands-On Woodturning presented by Jeff Hornung. Participants need to have some turning experience as these are not beginner projects!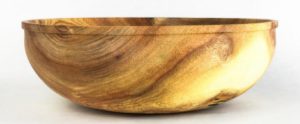 Basic tools for students to bring are a bowl gouge or two and your own turning blanks (see details below). A lunch break will be included. Jeff will cover all the steps and techniques needed to recreate his award-winning Morocco Blue Bowl. He will discuss wood selection, turning and sanding when planning on using color, chucking options, and texture and liming type waxes. He will also talk about the differences between types of dyes, airbrushing basics and how best to apply color. The second project will be a Bronze Calabash Style Bowl. Starting with the classic Egyptian calabash form you will turn and shape a piece of wood into a thin-walled "Bonze metal" bowl. Key points will be wood selection, thin wall turning control, holding techniques to turn a true round bottom piece and much more. The use of reactive metallic paint and force patination along with the natural warping of a thin-walled green wood vessel will create a stunning look when finished. Depending on time, Jeff will take you through turning a square plate or a tool sharpening session.
Jeff will provide dye, airbrushing equipment, colored wax, and reactive metallic paints.
You should bring your own turning blanks. Jeff prefers a dry plain maple for the Morocco Blue project and any type of wood will work for the other projects. Wet/semi-fresh wood makes the Calabash project easier.
Please note: Large and small Sorby texturing tools and different Wagner style tools will be provided for the Morocco Blue Bowl. If you have your own tools you are welcome to bring them. For the square platter, a good negative rake scraper or radius skew and a spindle gouge will be used.
Cost will be $75.00 per person
Class size limit  8 students

Please click on the link below to download a printable PDF of class descriptions and a class registration form.
2019 class list & registration form coming soon